Sustainability in Energy and Buildings: Research Advances ISSN 2054-3743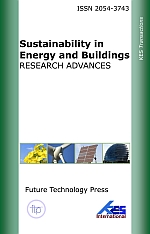 The Sustainabillity in Energy and Buildings Research Advances (SEBRA) series provides a means of publication for those that wish to disseminate recent outcomes of research projects in the areas renewable energy, energy efficiency and related topics applied to the built environment.
The series is intended for all those with new research findings to communicate, including early- to mid-career stage researchers, as well as more experienced scientists and engineers wishing to disseminate recent results.
Papers published in the series will usually have been presented orally or in poster form at one of the Sustainability in Energy and Buildings conference run by KES International (see www.sustainedenergy.org) as short papers, work in progress submissions, or full papers suited to this form of publication.
One volume of SEBRA is published each year, consisting of the papers received during that period. Papers published in the series will have undergone a review process appropriate to the level and type of publication.
Editors
KES International
Publisher
Future Technology Press
2a St Martins Lane
York
YO1 6LN
Email: contact@kesinternational.org

---

Series Volume 9

Contents

Development of a new parallel roof testing-rooms facility,
Stefano Fantucci, Emanuela Sassaroli, Marco Perino
1
The financial impact of policy schemes on PV + Battery systems in residential buildings: A case study in Cyprus
Nikolas Chatzigeorgiou, Michalis Florides, George Georghiou
8
Designing and Implementing a Joined-Up, Transparent and Workable Sustainability Strategy for a Welsh Housing Association: An Introduction to the Research
Adam West, John Littlewood, Robert Howlett
18
Using local and traditional building techniques to develop, implement and test anew Building Code protocol for the Caribbean, enabling resilience from the challenges of climate change reality
Evan Owen-Powell
26
Carbon Neutral Buildings in Canada - A Holistic Case Study
Trevor Butler, Douglas Macleod, Veronica Madonna, Henry Tsang
36

---